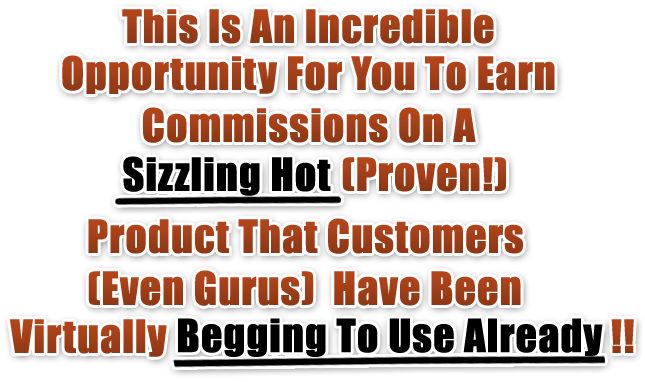 5-Day Only 95% Discount FireSale Promotion ENDS TONIGHT AT MIDNIGHT! $5,113.23 In Bonus Prize Money Will Be Paid Out For The Sales Made By Midnight Tonight…
We'll contact you Monday & instantly Paypal you your prize winnings!
Simply Opt In Here To Get Started:
This Is Big… Big… BIG!!
Tons Of Top Marketers Are Already Raving About This Lead Building Machine And Are Asking To Utilize "Contest Burner" Right Now!
Already Proven! Tons of proof factors already, case studies (Proof, proof, proof!)
Already in Huge Demand!
Your customers (and you) can Build A Monstrous List using this product!
Top Marketers (Players) already on board to promote… many already endorsed it, testimonials out the kazoo from private beta testers… and top marketers…
Generous Commissions & Residual Commissions, tons of buzz to hit the market… this is where you want to be!
Huge Offline Event for customers and affiliates!
Top professional copywriter and million dollar marketer on board for all the copy and JV Affiliate communication!
PLUS – We will provide YOU with a tremendous opportunity to utilize the product for promoting this launch! In other words, use Contest Burner to build your own list, build buzz and earn tons of commissions promoting the heck out of this proven product! (more on that in a moment)
Affiliates —
Bill McIntosh here…
Listen — this product launch has it all!
I'm very excited to bring you on board as an affiliate for the launch of this incredible, proven and highly in-demand product! That's right, lots of top marketing experts have already used Contest Burner to drive tons of leads… create armies of back-links… mountains of buzz… and have already used Contest Burner to flood traffic to their own launches!
The proof speaks… err scratch that… the PROOF SCREAMS OUT in this product with loads of successful case-studies already!
I mean, this product has tons of "proof factors" built in already (proof drives conversions) and contest Burner hits on the emotional appeals of the marketplace (simple… easy… quick…. and user friendly)… it really does have it all. It will be a humongous launch, guaranteed!
This product ALSO hits on what our customers WANT very badly:
Back-Link generating machine!
List building like the market has never seen!
Buzz Generating through tons of press releases, YouTube videos, Facebook, Twitter…. you name it!
Integrates easily with Aweber, Icontact, InfusionSoft, etc. to build a huge list
A WordPress plug-in – so wide reaching!
Evergreen and can cross into multiple markets (Like MLM, Offline Consulting, Real Estate Investing… CPA marketing… or just about any market out there!)
Top endorsements, customers wanting it badly already… hundreds of blog comments already… proven case studies already… and the list goes on!

Contest Burner has already been used on launches that have done Millions Of Dollars. Epic Traffic guys used it… Mobile Monopoly guys used it… and they all RAVE about the power… effectiveness… user-friendly… and buzz this product provides!
Simply put, you should first sign-up below to be on our JV Affiliate List, to get all the details… to see how this baby works… to see how it can help YOU earn much more commissions… how you can use this product yourself to explode your own list… back-links and buzz… and much more!
Because you see — Contest Burner is a proven product and is ready for primetime! This is your golden chance to launch-it and cash in on the "demand" and "buzz" in the marketplace!
Just get in the way of the tidal wave of money about to be spent on this product!
Simply Opt In Here To Get Started!

Contest Burner is a patent pending program that allows ANYONE the abilities to start, run and manage their own contest. The contest generates tons of back-links for any site! (even offline small businesses can utilize this).
Through a WordPress plug-in (simple to install), Contest Burner is quick, easy and user friendly. The product allows ordinary people to have the power to generate thousands of back-links all over the Internet. This helps them get loads of traffic and rankings on SE's.
Plus, Contest Burner awards points to participants for taking action. Participants in the contest can earn points for doing action-steps such as:
Submitting Youtube videos
Commenting on Youtube videos
Tweeting and retweeting
Submitting press releases
Blog comments
And the list goes on and on!
If you are the one running the contest (owner of the product) then what you get in return is a flood of back-links, tons of buzz in the marketplace, lots of referrals, a huge list being built for you and much more!
Listen, when you get this. You get it.
I mean, when you fully comprehend the power of Contest Burner, you see dollar signs. Everyone does. Top marketers from all over — are all over this right now! We are running even more case studies right now… more proof factors are being generated as we speak.
Proof :: Proof :: Proof!
Every good salesperson and marketer knows to "Sell On Proof"… to stack layers upon layers of proof… and that's what you are about to have at your disposal —- a mother-ship of Proof! How Powerful Is That For Generating Commissions!
Dont miss out on this launch… you'll kick yourself in the teeth for missing out and leaving all that money on the table! Join Now and get involved!

Contest Burner is being run through Click Bank. Because of that, you are guaranteed to get paid your commissions and know your links will be tracked with effective statistics. You are in good hands with your commissions indeed.
Up To $294 in commission possible on launch day with a $33.50 potential monthly recurring commission every month after-wards!
Low ticket front-end allows you to make a boatload of cash… with the opportunity to earn ongoing residual income as well…
You are going to get tons of conversions since this is not a high ticket product… but has high ticket VALUE!
You'll see… when your customers see the incredible value they get with this product (and launch) they'll fall out of their chairs when they see the low price! It's an offer they cannot refuse!

We're going all out on this launch! Not only do your customers get incredible value for a low price point, they also get to attend a jam-loaded event in Atlanta!
Of course, you get to come too!
This will be a content event, not a pitch fest. This event in itself is huge value for your customers. Again, this is over-delivering at its finest and it's providing your customers with an offer they just cannot refuse!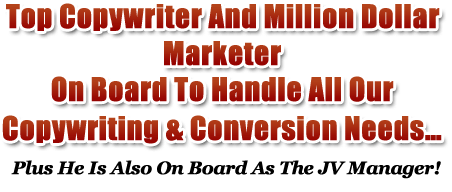 Eric Louviere is the copywriter hired for ALL the copy on this product and launch. He is working in partnership with me to handle copy, conversions, sales videos, emails, up-sells and more. Eric has generated over a million dollars online himself and has also written copy for many of the top gurus online.
He's had plenty of successful launches himself and is fully committed to YOUR SUCCESS!
Plus, Eric is also the JV Affiliate manager on this launch as well. He will be the one communicating with you, helping you earn a ton, helping you convert… answering any questions… etc.
See? When I told you I was going all out on this I wasn't pulling your leg! Here's what Eric had to say about coming on board:
"At first I got the concept of Contest Burner and thought it was a great product… But Then, I REALLY got it. I started seeing the dollar signs everywhere… and ideas started popping in my head on how to use this thing.
Then, Bill and I met and he showed me the proof! He showed me all these back-links… YouTube videos… LEADS and more LEADS!
Then, I became as committed and excited about a product as I ever have. Contest Burner is the real deal and I'm jacked-up to be a part of it's launch! Let's do this thing!"
Eric Louviere
As you can see, this is a jam-loaded launch. It comes with all the bells and whistles. This launch will flood the Internet Marketing landscape and you need to be in on this! Go ahead and sign on with us below. Get all the details. Participate in the launch. Build a list, create buzz, use the product and earn yourself a ton of commissions!
Simply Opt In Here To Get Started!

If you survey the Internet marketing landscape, it's pretty obvious MOST want a list. It's hard for many to use PPC… or pull off big launches with JV's… but with Contest Burner, it's not out of reach for many in the marketplace to build a big list of subscribers.
This means traffic!
Ah… the golden word all marketers love to hear… "TRAFFIC!"
Well, as you already know, they seek traffic and this product helps them get plenty of traffic in the easiest of ways! Really, anyone can do this! Your subscribers will be all over this!
Right now, many marketers in the community are busy trying to get back-links from where ever they can get them. With Contest Burner, it's a piece of cake to get back-links from all over the Internet.
Also, with Contest Burner, your customers can create buzz in the market… buzz on the social networking sites… buzz on YouTube.com… and so on… This is huge for conversions, social proof and spreading the word!
As you know, the more the market sees a product (top of mind awareness) the more likely they'll buy and become involved. This is why Contest Burner is so effective… it hits people from all different angles creating buzz and recognition in the marketplace. How powerful is that?
…Very powerful for "marketing purposes" indeed!

One of our affiliates, Mike Filsaime, has recently posted his new guidelines for promoting Internet Marketing offers as an affiliate. Mike was sick and tired of all the garbage in the marketplace and took a giant leap to get rid of all that garbage and clean things up in our industry.
We certainly agree with him and found his guidelines as a strong "standard" to live up to.
We have decided to post his guidelines here and make an oath to follow them accordingly!
Mike's Affiliate Guidelines:
#1 – Contest Burner WILL NOT sell/provide A Hidden Method that is only revealed when customers buy
#2 – Contest Burner WILL NOT Out right lie.
#3 – Contest Burner WILL NOT provide fake Income, proof, screenshots, or income claimed from method shown as proof was not actually made from method. (Added: use of fake seals. i.e. you show a BBB or trust-guard, or VeriSign seal and it is nothing more than an image that is not registered.)
#4 – Contest Burner WILL NOT provide False Scarcity – ie. Only 500 units will ever be sold.
#5 – Contest Burner WILL NOT hype up the sales-letters to the point of causing a refund rate of 20% or more.
#6 – Contest Burner WILL NOT Provide Bad/Poor customer support
#7 – Contest Burner WILL NOT deliver A product that is not complete at the time you sell it.
#8 – Contest Burner Certainly WILL honor refunds.
#9 – Contest Burner WILL NOT Bash Gurus – Anti/ Guru , all the guru's have lied to you. All other products except this one are crap. You have been lied to. Are you sick and tired of the guru's shoving crap down your throat etc…
#10 – Contest Burner WILL NOT Have more than 1 exit Pop.
#11 – Contest Burner WILL NOT provide Up-Sells that make the buyer feel unhappy about the original purchase
#12 – Contest Burner WILL NOT release inferior products where we don't have our ducks lined up. Our site and technology will work.
#13 – Contest Burner Certainly Does Pay Commissions (It's Through Click Bank)
#14 – Contest Burner Certainly IS FTC compliant with Income claims, testimonials, and privacy etc.
#15 – Contest Burner's reputation online is solid.
#16 – Contest Burner puts the customer first Not the affiliates. Money is a by-product of value.

Simply Join Below And Get More Details Of Everything You Need. If You Have Any Questions At All, Let Us Know How We Can Help You Make Even More Money!
Eric Is There To Help Maximize Your Commissions, So Be Sure And Utilize Him. Alright, Get On In And We'll See You Inside!